Outlook Email Setup Instructions
1. Select Tools, then Account Settings.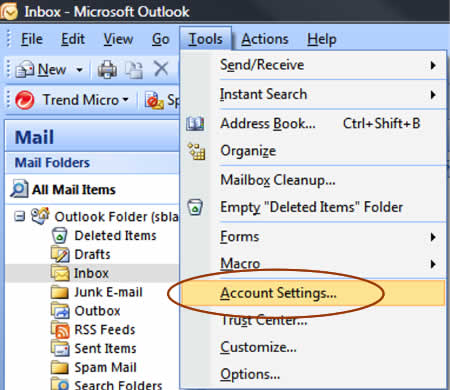 2. On the Email tab, select "New".

3. Select the option to "Manually configure server settings or additional server types".

4. Select "Internet E-mail" As your E-mail service type.

5. Fill in the form with your information. You can also select IMAP or POP3 mail retrieval at this time too. IMAP will provide better access to your mail on the go and provide stronger redundancy. POP3 will move the mail to your computer, leaving you more server space, but the redundancy is lost unless your client is set to leave a copy of your messages on the server until deleted on your local PC.

6. Click Next, then Finish on the last page.

HIGH SPEED INTERNET
SERVICE
MORE INFO
DIAL UP INTERNET
SERVICE
MORE INFO
HOME PHONE & HIGH SPEED INTERNET BUNDLE
MORE INFO
CUSTOMER CARE
Access your account information, change your passwords, pay statements and more.